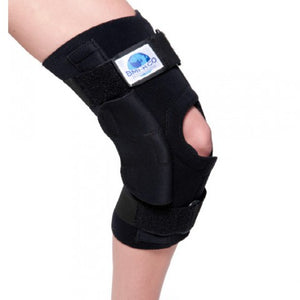 BMI™ Neoprene Knee
Regular price $104.00 Sale
Measurement Guide
Sizing measurement is determined by a circumference measurement 4" above and 4" below the patella. No addition for contracture.
Size
Above
Below
Length
Petite
13"-15"
11"-12"
13"
KNE-P
Small
15"-17"
13"-15"
15"
KNE-S
Medium
18"-21"
14"-16"
15"
KNE-M
Large
22"-24"
16"-18"
15"
KNE-L
X-Large
25"-27"
18"-20"
15"

KNE-XL

Features and Benefits
Wrap-around neoprene knee is made in a seamless, 4-way stretch fabric
Mild to moderate medial/lateral support
The knee patella buttress can be positioned for more support and comfort and to prevent dislocation
Bilateral hinges to help provide additional knee support
Indications
Rheumatoid Arthritis
Osteoarthritis
Meniscal Cartilage Derangement
Knee Ligamentous Disruption
Replaces
Other neoprene knee orthosis not offering antimicrobial and bacterial properties
If you would like to purchase using MEDICARE PART B, please visit Clinicare Medical Resources.